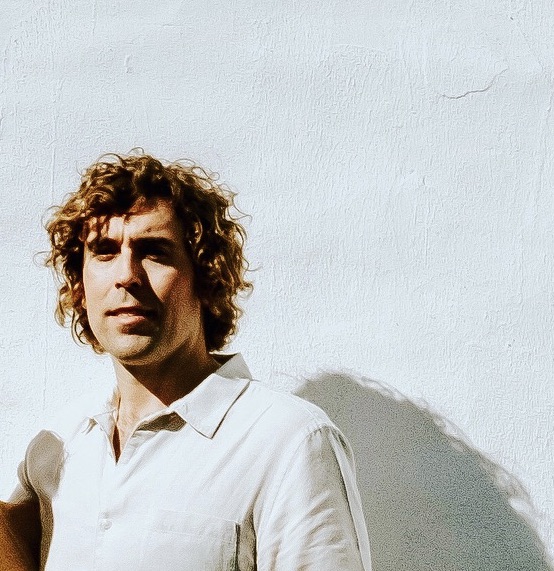 Patrick Seibold
Product designer
SAVR Recipes
Find recipes you love and cook hassle-free
Savr Recipes is a new startup that helps people find and cook new recipes at home. The company has received negative feedback regarding the timing and order of operations of each recipe, as well as building confidence within users regarding new techniques and unfamiliar ingredients. The purpose of this design sprint is to discover new ways to address these pain points, focusing on time management, a clear order of operations, and providing information to familiarize users with new techniques and ingredients.
Please Note: This is a modified Google Ventures Design Sprint that is completed over five days, but only dedicating four hours each day to the sprint instead of the standard eight hours each day.
My Responsibilities

Research synthesizer
I consolidated, expanded upon, and drew conclusions from the existing research which consisted of personas, interview recordings, and product reviews.
UX Design
Research synthesis, ideation, user stories and flows, wireframing.
UI Design
Interface design, prototype development
Design Constraints

Ordered lists
Native mobile application
Solve problems that users have while preparing and cooking recipes
Insights
Cooks 3 to 4 times per week
Enjoys cooking and believes following a recipe is the best way to learn how to become a better home cook
Gains confidence after trying a recipe once
"I don't know what equipment I need?"
"I constantly have to wash my hands and refer back to my phone."
"I'm not sure if I am on track half way through the recipe."
"I often feel like steps are sprung on me, and that can be stressful."
"I see techniques and ingredients that I am totally unclear on."
"If a dish doesn't come out as expected, I'm not exactly sure where I messed up, and I feel like I didn't learn anything."
Research Synthesis

Testimonials, a persona, and interviews provided information about the issues users had with the Savr application. I used said information to record statements and findings on sticky notes and organized them into an affinity map "grouping topics" by category and problem.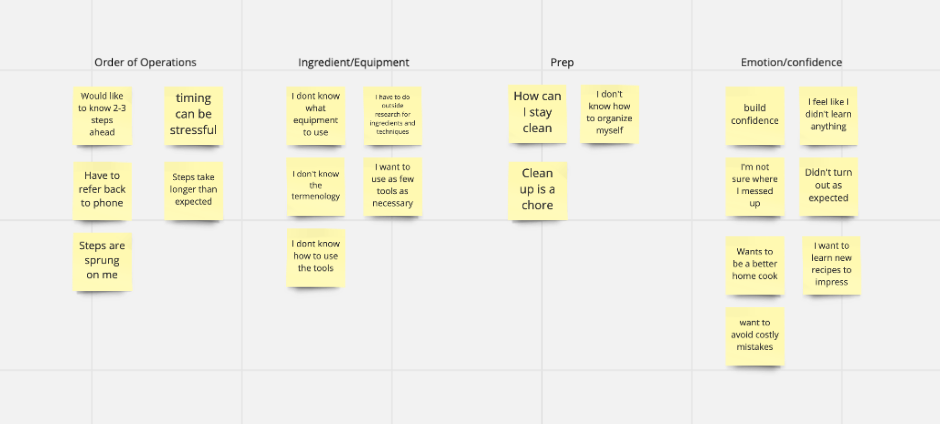 Affinity Mapping & User Stories

From the affinity map, I was able to come up with key user stories to better drive the design solution process.
Highlighted User Stories are included in the MVP.
As a user, I want to:
Know what equipment I will need to execute the chosen recipe.
Know which ingredients to first prepare.
Know which ingredients to prepare while other ingredients are cooking.
Know which ingredients can be replaced, and with what they can best be replaced by.
Learn to work clean and efficient.
Learn new cooking techniques with confidence.
Learn step-by-step what to expect throughout the cooking process.
Know 2 to 3 steps ahead of the current step I am on to be prepared and efficient.
Want to learn new recipes to use them later.
Want to be able to control the app without using my hands.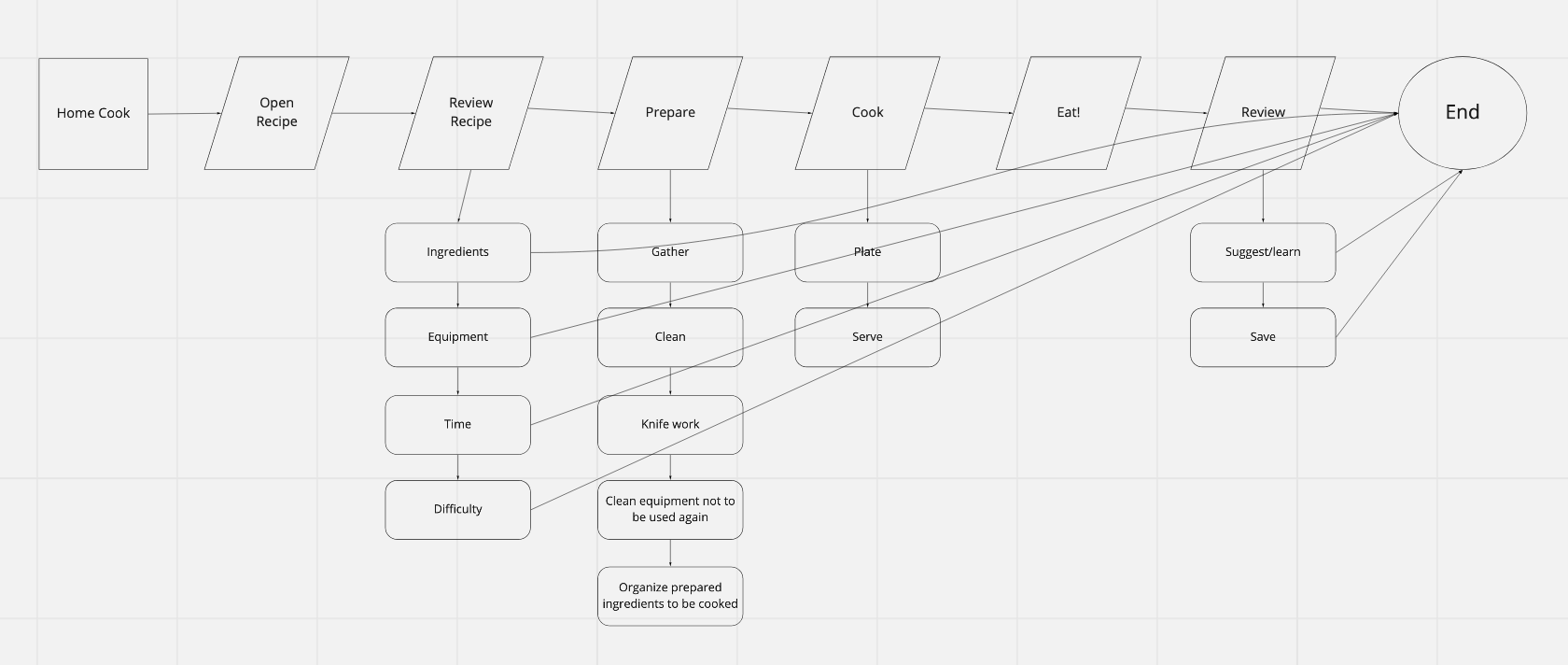 User Flow

From the user stories I created, I was able to map out the ideal user flow for the Savr application.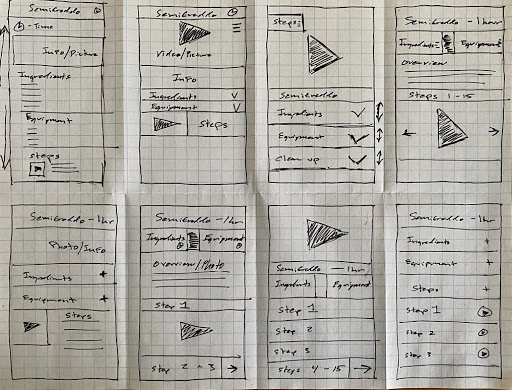 Crazy Eight Sketching

I sketched ideas using the crazy eight sketching method, which involves sketching eight concepts in a fifteen-minute time frame. The crazy eight method helped me organize my thoughts on paper and build off the best sketches.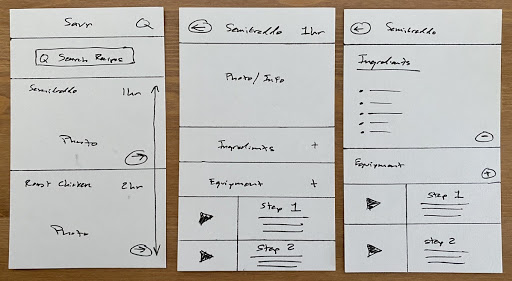 Solution Sketch

The best sketch idea was chosen, and I produced a three-panel sketch of the recipe search screen, recipe screen, and steps screen.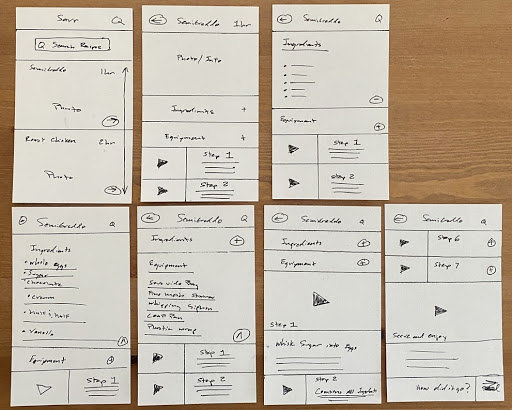 Storyboard Sketches

From the sketches I created, I devised a basic wire flow representing the process of how a user would choose a recipe, preview ingredients, techniques, and equipment needed, execute the chosen recipe, and give feedback on the recipe
Prototyping
Using the storyboards as a reference, I built a prototype for the recipe portion following the user flow I set while sketching. I first set out to make the application layout as straightforward as possible to deliver the information in a concise, organized manner.
I did this by using a large image to visually inspire the user to choose a recipe, or if searching for a specific recipe, a filter menu would help nudge the user to make an appropriate decision based on time, skill level, or ingredient. Once a recipe is chosen, the user can look at ingredients, equipment, and techniques used and then follow along in video stages.
The idea of breaking the recipe steps into stages was devised to keep users thinking one to two steps ahead in the recipe process, solving the problem of users feeling that steps are sprung on them, thereby creating unneeded stress, negatively affecting their confidence in the kitchen, and ultimately improving app usage.
User Testing
I tested the prototype on five participants with a diverse range of technical skill levels and experience with cooking. All participants use iOS devices. Two work in education, one is a professional cook, and two work in tech. All participants cook at home and are interested in becoming more skillful and confident in their culinary abilities.
I asked each participant to answer the following questions while referring to the prototype:
This app allows you to search and find recipes that are delicious, enjoyable to cook and help develop your culinary skills. How would you decide on a recipe to make?
Let's say you have chosen to cook Roasted Chicken. What would be your next step before you fully commit? How do you feel about the information provided? Is there anything missing that would be helpful?
You have now committed to following the roasted chicken recipe. What is your next step?
You have now completed the recipe but would like to attempt it again. What would you do?
Is there anything that I have forgotten that you think is important?
Feedback
"It's organized and easy to see exactly what I need."
"I really love how it gives me an overview of the techniques I used and how to get better at them."
"I've never thought of breaking recipes up into stages. I wish there was a timeline for each stage though."
"This would be even better if it were controlled by voice."
"I need more photos to make a decision."
"It would be cool to have substitutions for ingredients and equipment."
All participants were able to complete all tasks given successfully and provided quality feedback. To further develop the product design, I would like to take into account the specific feedback of adding voice control and adding ingredient and equipment substitutions.
Conclusion
The main point I would like to explore further is how recipes and steps are organized. I currently have the recipes broken up into stages to help users execute the chosen recipe efficiently while also building confidence in their abilities. Looking into and re-testing how recipe steps are organized and visually demonstrated would likely increase user activation and reduce churn on Savr's platform.
What I learned
During this project, I learned that the way recipes are currently written follows a standardized method that has not been updated to benefit web-based learning platforms. Developing a new system of organizing and displaying recipes is a potentially impactful way to get more people cooking and enjoying the process.