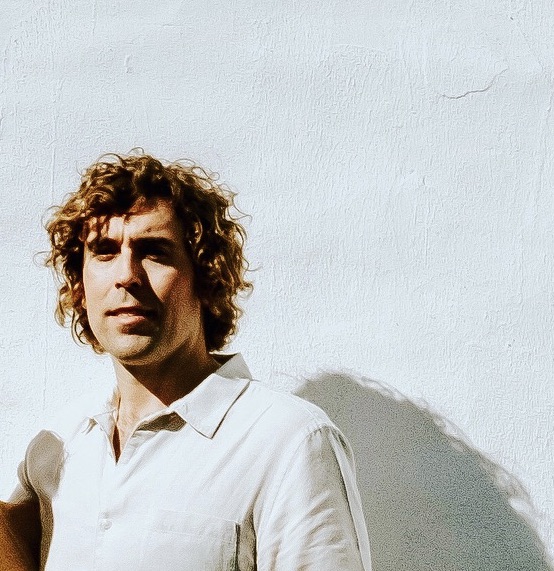 Patrick Seibold
Product designer
Learn From A Chef
Online Cooking Classes by Michelin Star Chefs
Company Overview
Learn From a Chef offers home cooks virtual cooking classes taught by Michelin-trained chefs. The platform has over 500 active users and 18 chef instructors with more being added weekly. Learn From a Chef was developed to give some financial footing to chefs who have been furloughed during the Covid-19 pandemic.

Role
UX Designer
My Responsibilities
Research

I consolidated, expanded upon, and drew conclusions from research which consisted of competitive analysis, chef interviews, and user reviews.
UX Design
Research synthesis, ideation, user flows, wireframes, and high-fidelity mock-ups.
Design Constraints
Squarespace Template
Web Only
Solve problems that chef instructors have while creating and managing classes
Time Constraint
The entirety of this project was completed in a 40-hour window.
Problem
The current class management system is time-consuming for chef instructors who only want to spend three hours per week teaching live classes. As a result, chef instructors are not registering more classes.
Problem Background
Chef instructors currently create classes using a combination of Google Forms, Google Docs, and Acuity Scheduling. Aside from being spread across multiple tools, the class creation framework is fairly open-ended which, in this case, leads to inefficiency.
From a business perspective, having materials spread out across tools makes it difficult to stay organized.
Goal
Increase chef instructor retention by making the process of creating and managing a class quicker and easier.
Reduce the number of external applications necessary for daily operations.


My first step before jumping to possible solutions was to do a competitive analysis. This process allowed me to see how other live stream cooking classes were implemented.
I found four companies that existed in this space: Chibo, Haven's Kitchen, Life At The Table, and Stream.club.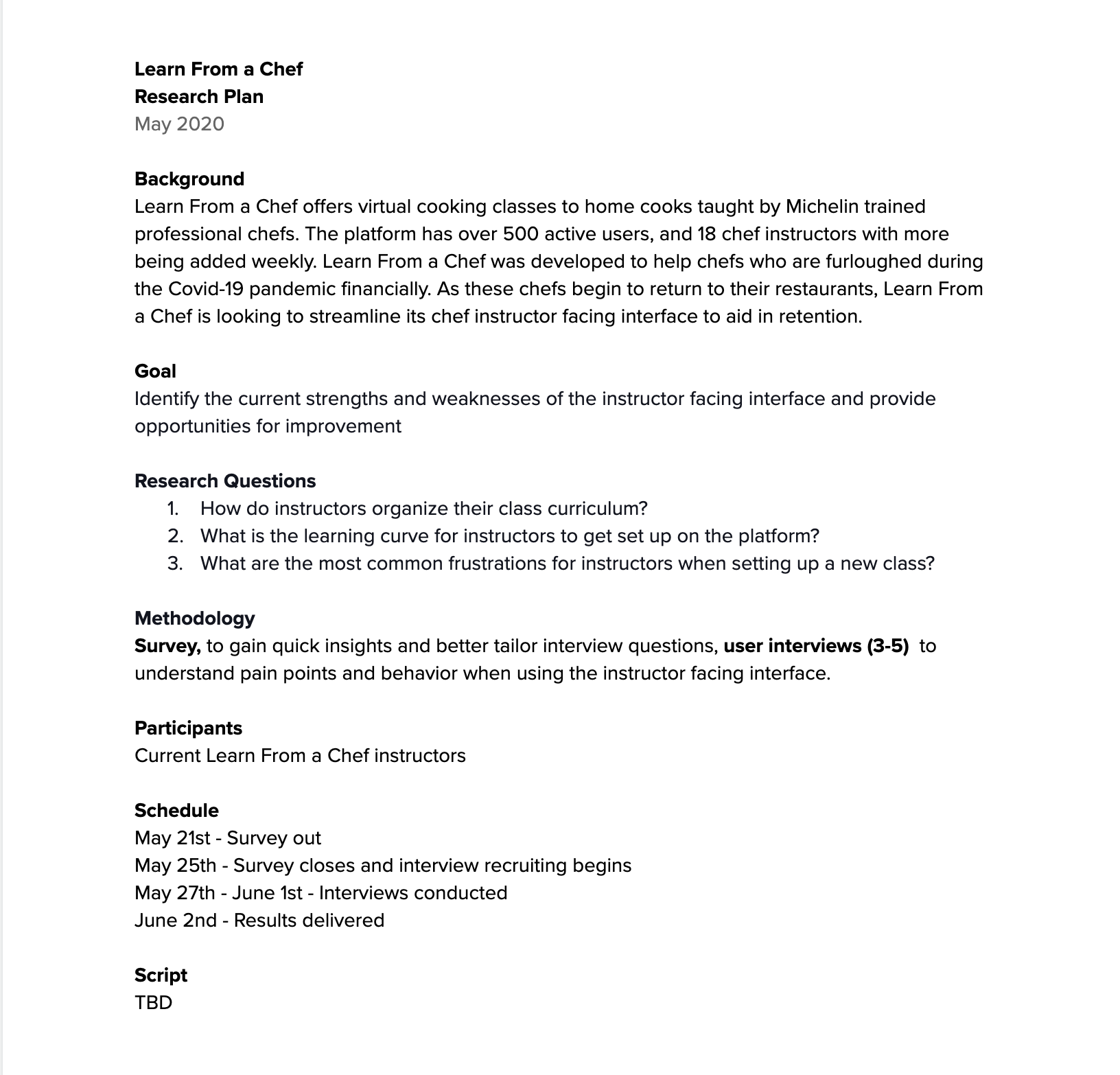 After deep-diving into my competitive analysis of this space, I began primary research by creating a research plan and survey to quickly gather insights from current chef instructors.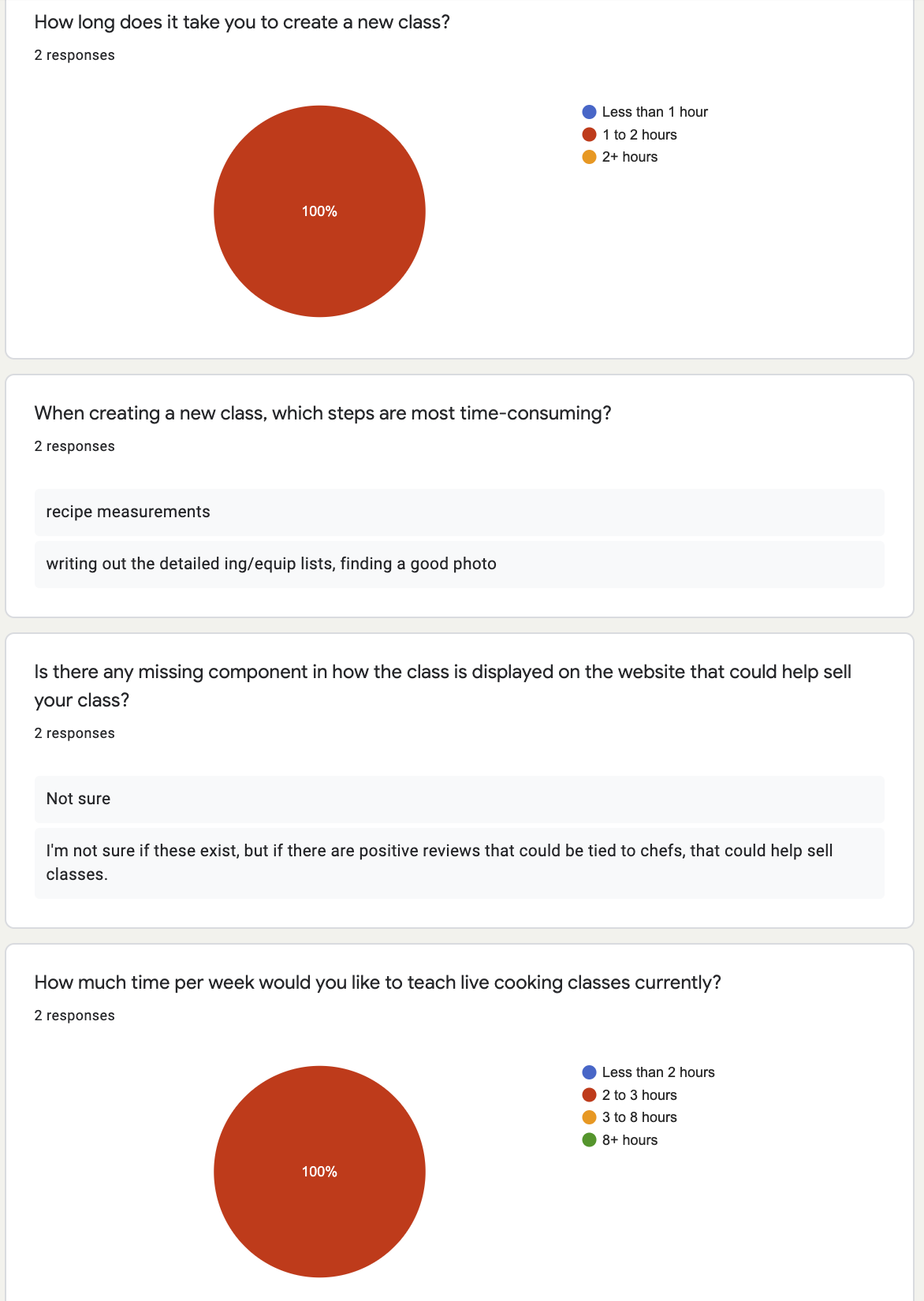 Through designed questions I asked, I was better able to understand the chef instructors' pain points and gain insights.
Would like to spend two to three hours per week teaching live classes
The most time-consuming part of creating a class is organizing curriculum
Have never taught before and need help designing effective curriculum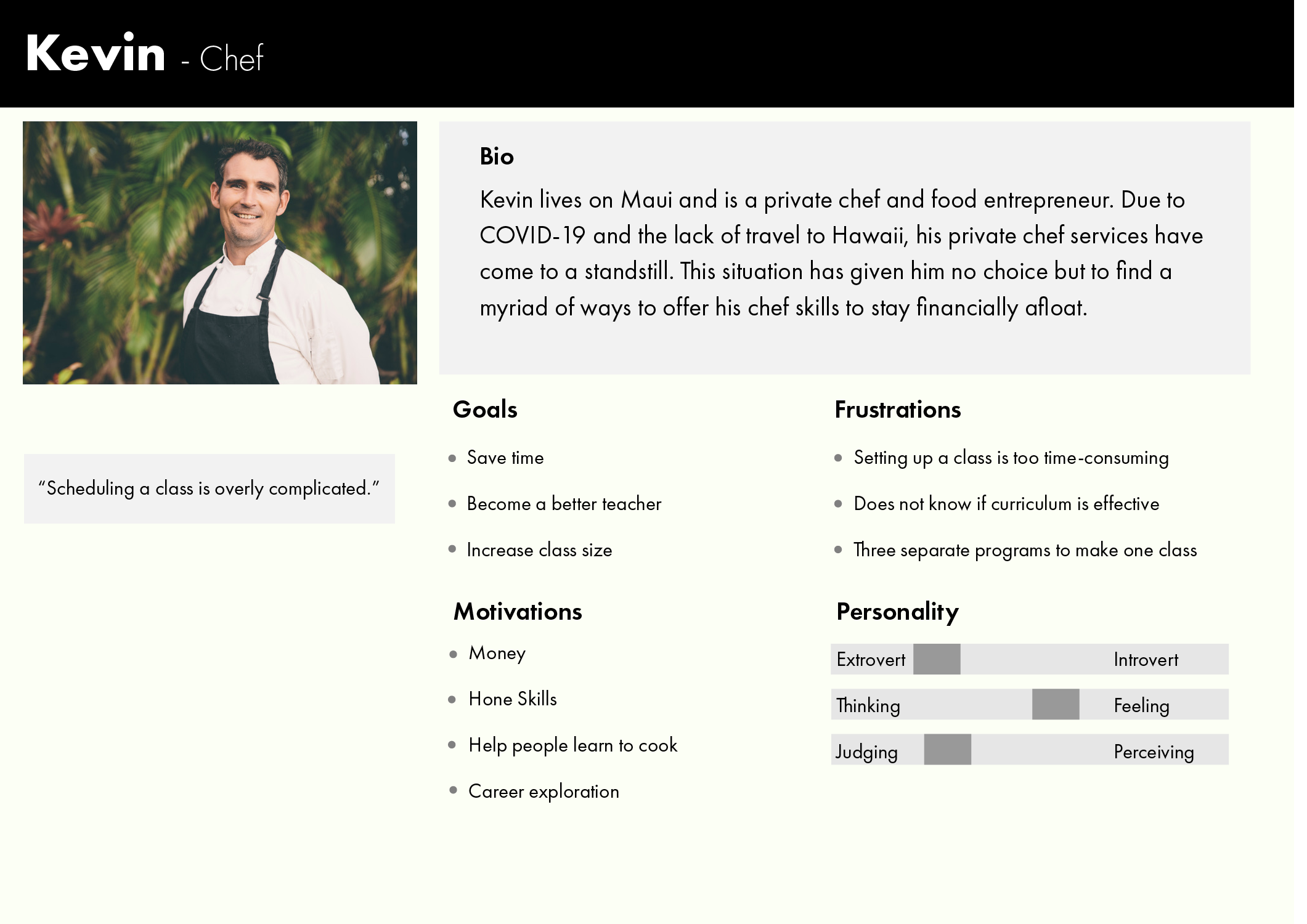 Persona
Receiving insights from the chef instructors allowed me to define a persona. The persona includes bio, goals, frustrations, motivations, and personality types. I referred to this persona throughout the design process.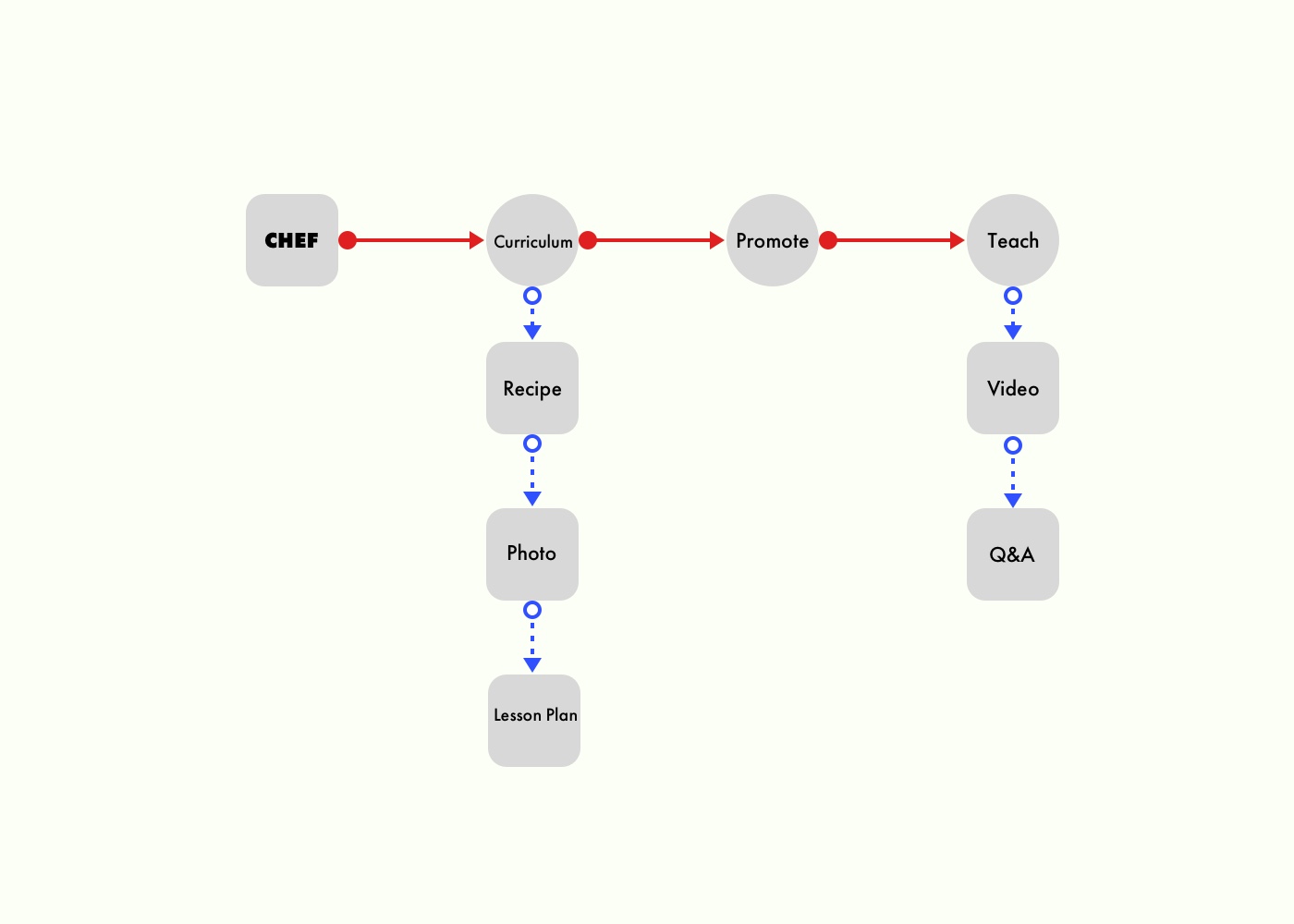 Taking into account insights from current chef instructors, I have designed a solution to increase chef instructor retention by allowing instructors to create classes from a single place within Learn From A Chef. By making the process of information collection more structured, instructors would stay more organized in their thought process, be nudged to create a clear curriculum, and spend less time overall registering their classes.
When creating wireframes, I focused on what the user needed and began to determine how these needs would be transferred to a screen. Working in greyscale allowed me to work quickly and not get caught up in stylistic details.
Keeping in mind unearthed suggestions from research, I simplified the create new class flow.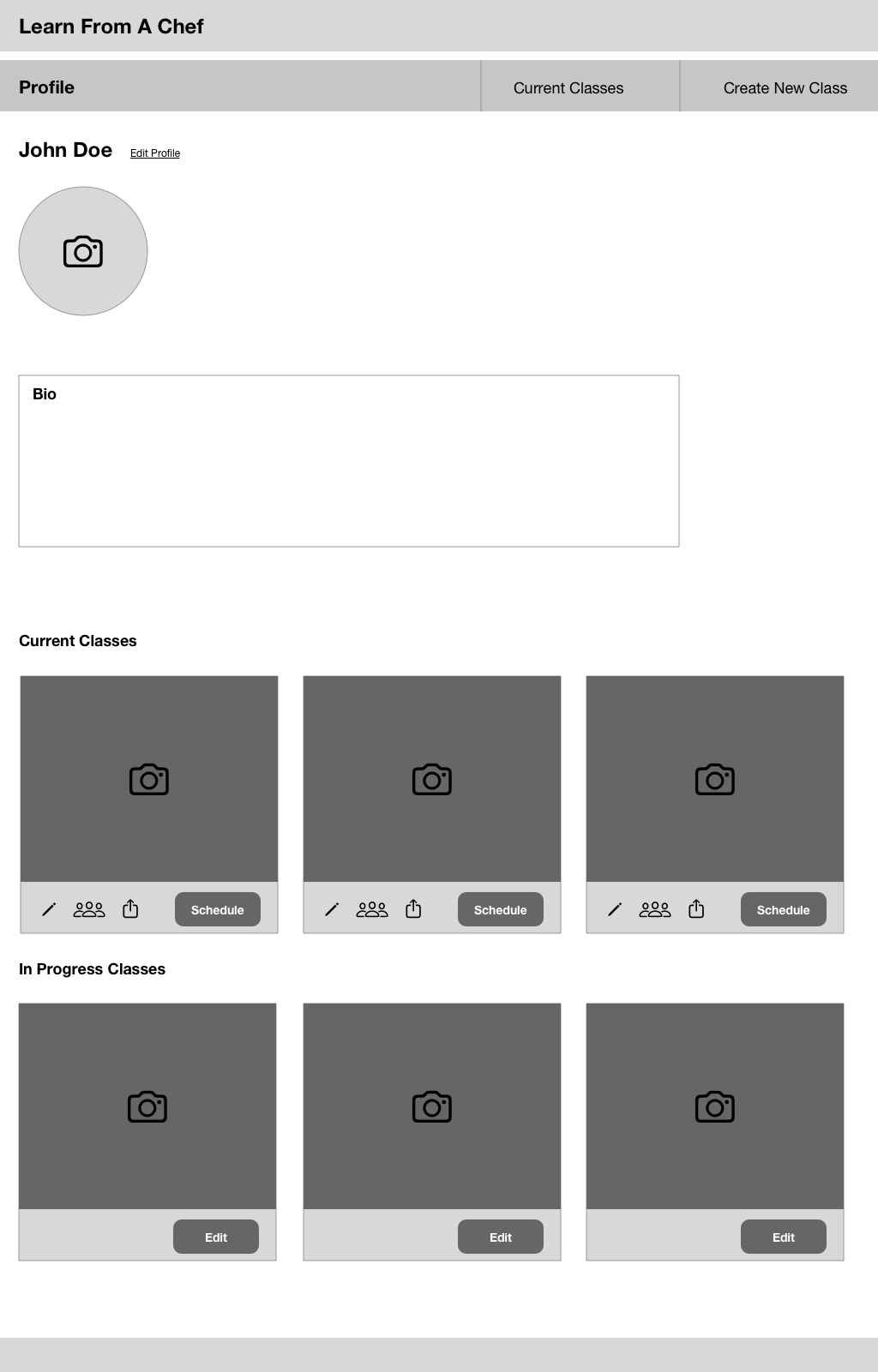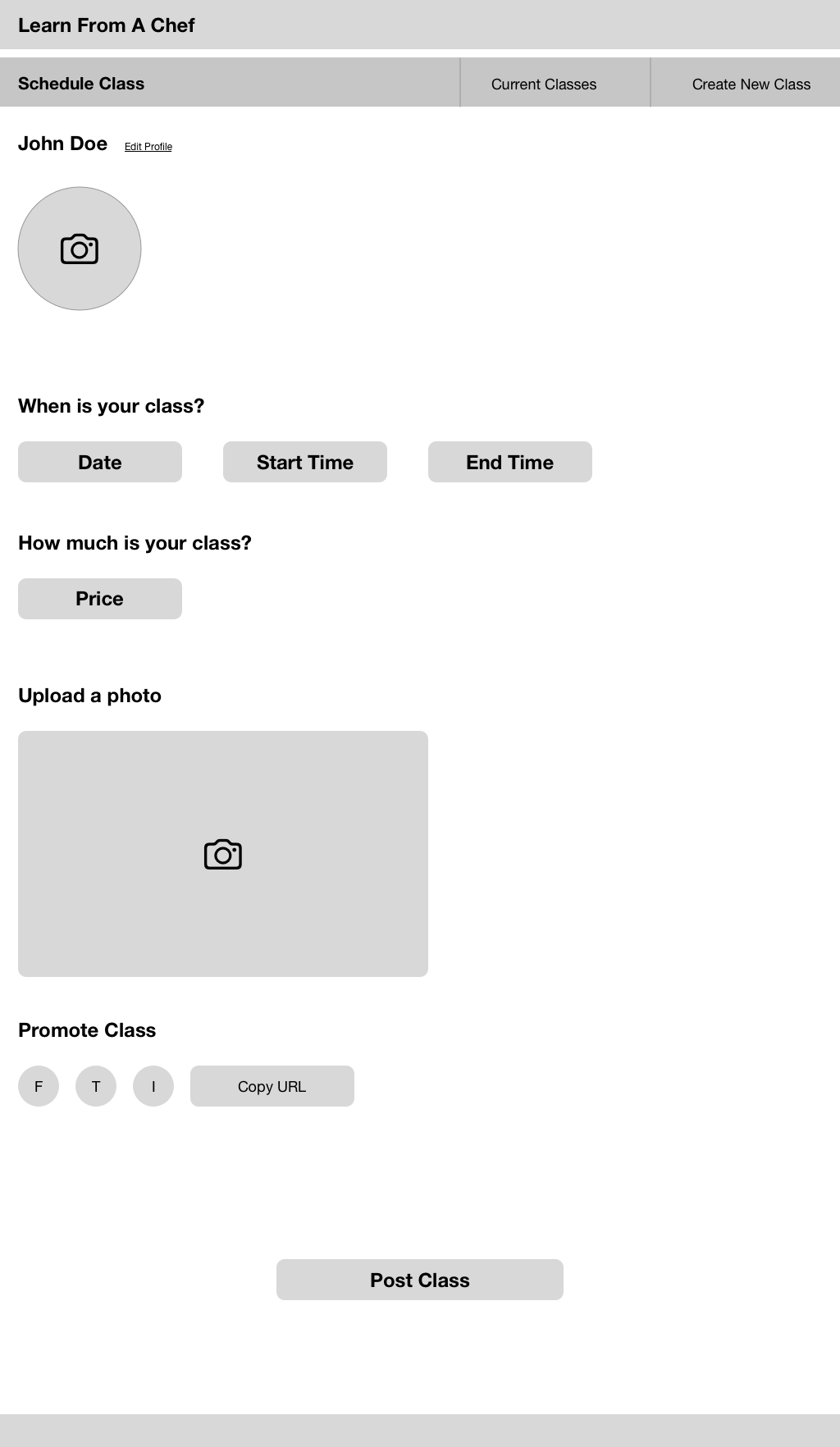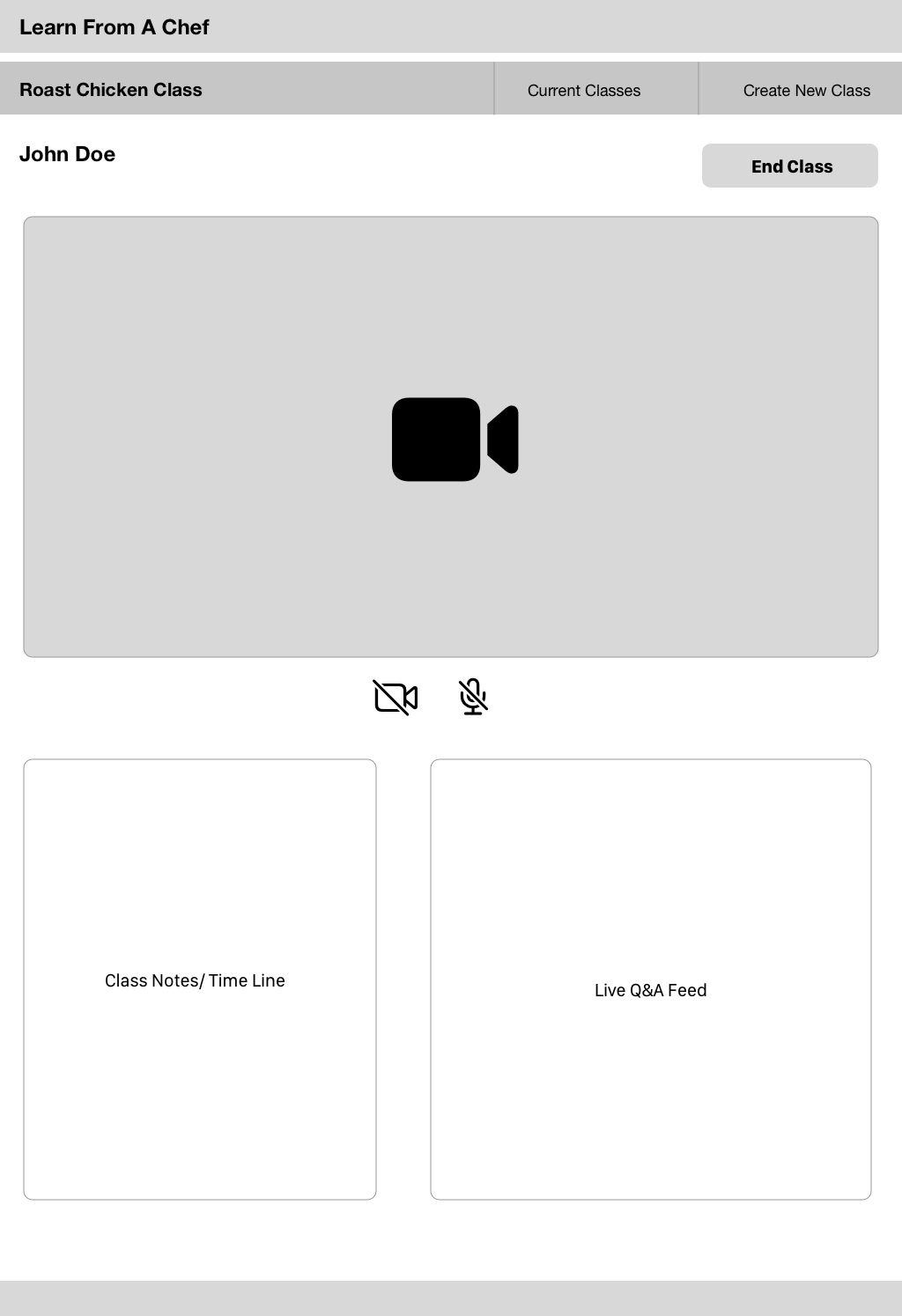 After wireframing a chef instructor class creation flow, I had to simplify the flow to what was absolutely necessary to implement into the current site design.
This included Chef Instructor Login, Create New Class, Recipe Sheet, Publish and Promote the Class pages.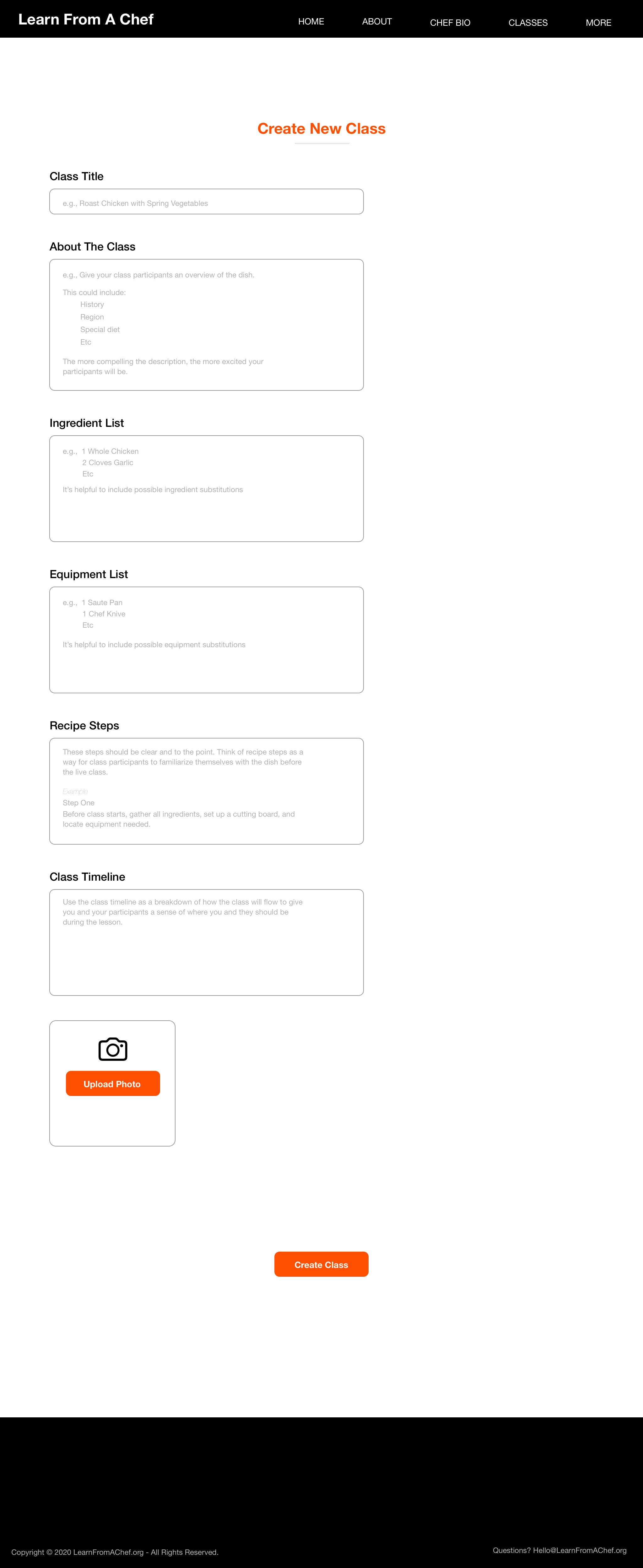 Creating A New Class
The Create a New Class page collects information that will ultimately be displayed to the patron. Its straightforward design is meant to keep instructors focused on the task at hand. Once populated with information and saved, the user-facing form would display the recipe that could be converted to a PDF and printed or mobile-optimized for in-store ingredient shopping.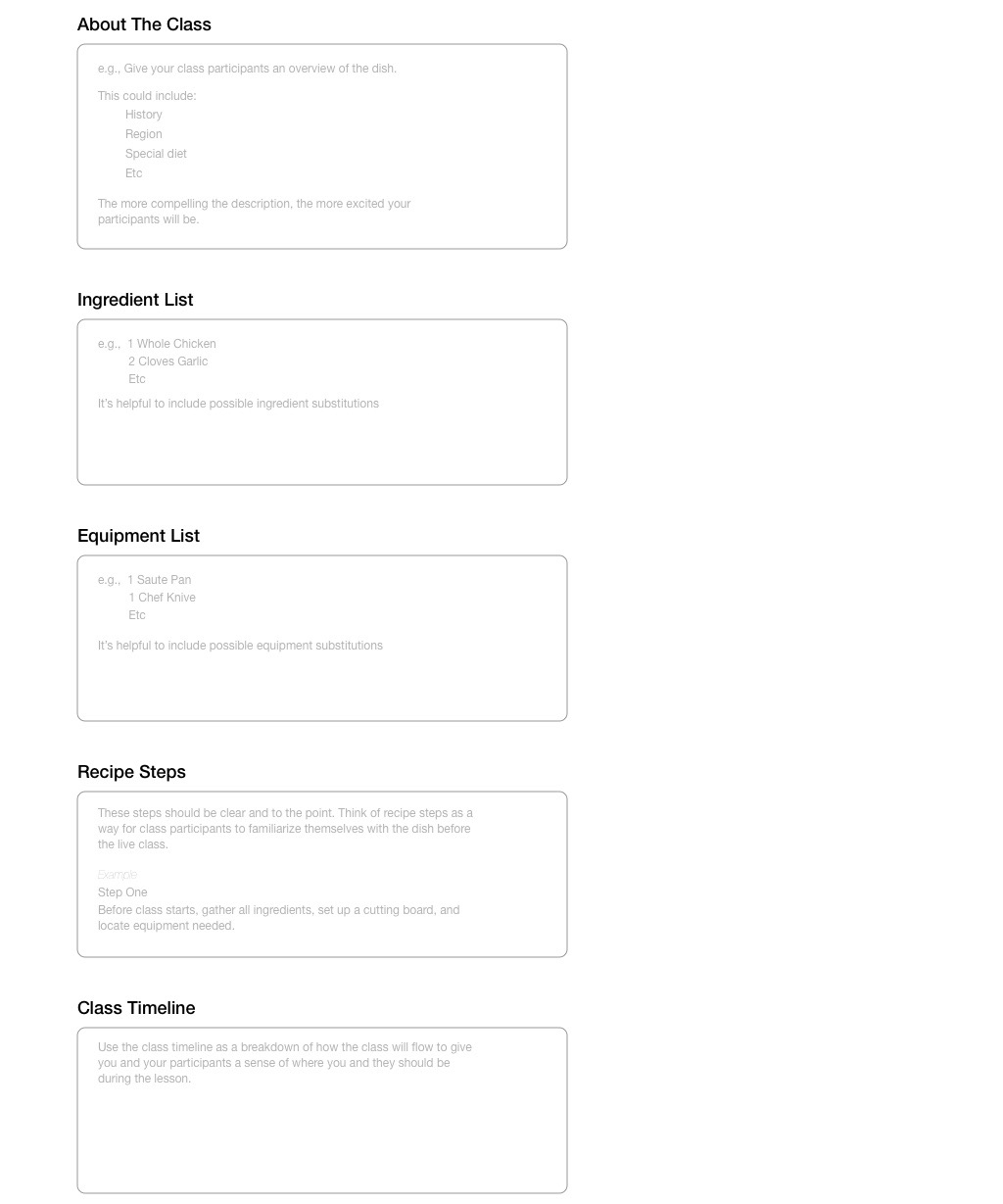 A Slight Nudge
While interviewing chef instructors, a common theme emerged regarding a lack of teaching skills. I set out to nudge chef instructors to create a framework that would lead them to communicate their class materials in an organized way. This would help organize their class, benefit class participants, and effectively save instructors time when creating a new class.
I did this by pre-filling out the recipe fields with a curriculum framework. This was the best option given the constraints of the current website build.

Class Scheduling and Promotion

The current process of scheduling a class requires the chef instructor to schedule on Acuity Scheduling and promote the class separately on Facebook, Instagram, and etc.
Scheduling a class has been kept to class date, time, price, and social promotion. This eliminates using another scheduling platform, in turn, saving the chef instructor time.
Now, when a chef instructor saves their class, the class is automatically posted to the social media sites that they have authenticated during initial onboarding.
We recognized that there is the possibility that tying the automatic social media promotion to the scheduling of the course could cause issues in the event that the class details, especially timing, changed.
To conclude, these recommendations are compatible with the current Squarespace template being used. This system keeps everything in one place but allows for customization to accommodate future goals.
What I learned
During this project, I learned of inefficiencies in building a platform using a proprietary content management system. As the complexity in information display grows the limitations of a CMS like Squarespace quickly begin to show limitations. The product is centered around teaching, which should extend past the live training to written materials as well. A system like Squarespace will not work well when deviating from run-of-the-mill text blocks.
I also had a realization in terms of how the 'art of cooking' is no different from powering through a 'Design Thinking' methodology.
Next Steps
While working on these pages, it occurred to me that the design of the Create a New Class form itself could nudge instructors to develop a standardized curriculum. Developing the optimal format would require experimentation, but could end up being a product differentiator that improves the quality of the end deliverable.