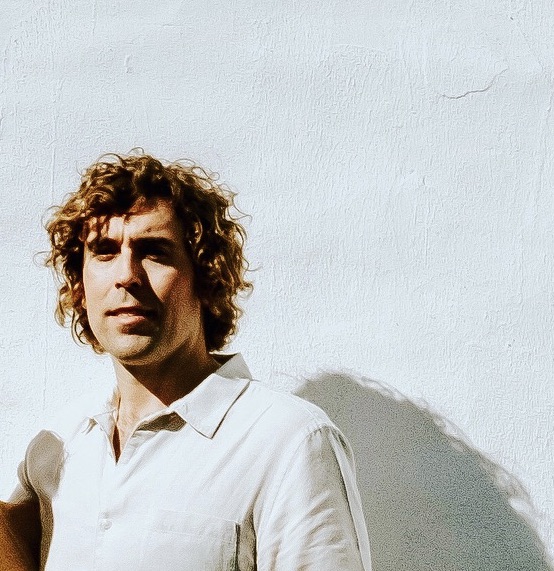 Patrick Seibold
Product designer
ROTATE
A Sustainability-Focused Restaurant Guide
My friends and I have long complained about how time-consuming it is to search for restaurants that primarily support local farms. We often hear about a restaurant we would like to visit and then begin cross-referencing multiple restaurant discovery apps (think Yelp, Google, Eater) to find out if local ingredient sourcing is a priority.
Rotate is an app that helps people find sustainability-focused restaurants, with the ultimate goal of increasing transparency of ingredients used and incentivizing more restaurants to support sustainable farming.
Role
I worked on market research, user research, UI/UX design, and user testing during the span of the product's development.
Stop Making Sense
My first step before jumping to possible solutions for discovering sustainability-focused restaurants was to do a competitive analysis. This process allowed me to see how I could differentiate my product and improve upon existing solutions.
I found three companies that existed in this space: Eat Well Guide, Truth, Love and Clean Cutlery, and Yelp.
Through my competitive analysis, I discovered that Eat Well Guide, and Truth, Love and Clean Cutlery were curated lists, but required people to use another app to learn critical information. Yelp, the industry leader, is bloated with user-generated content, advertisements, and an inundation of restaurant information, requiring the user to complete more steps to find a sustainability-focused restaurant.
After deep-diving into my competitive analysis of this space, I began primary research by creating a research plan and screener survey to identify ideal users to interview. After receiving responses from the survey, I contacted five participants that fit my perfect user profile and began video interviews.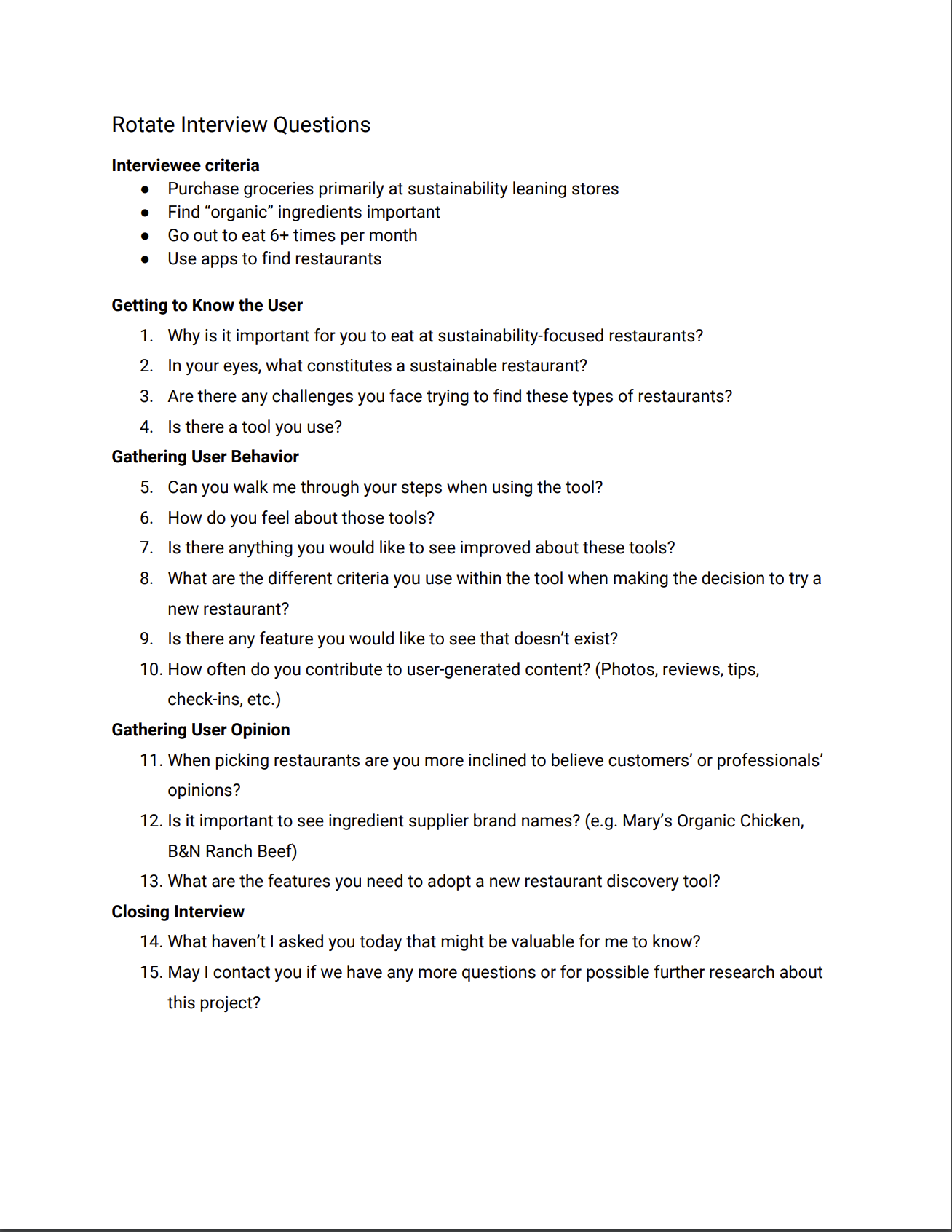 Through designed questions I asked, I was better able to understand my ideal users' pain points.
Start Making Sense

The first synthesis method I used was affinity mapping to identify patterns and themes during interviews. I did this by writing insights from each interviewee on a post-it note and clustering each insight into a similar group.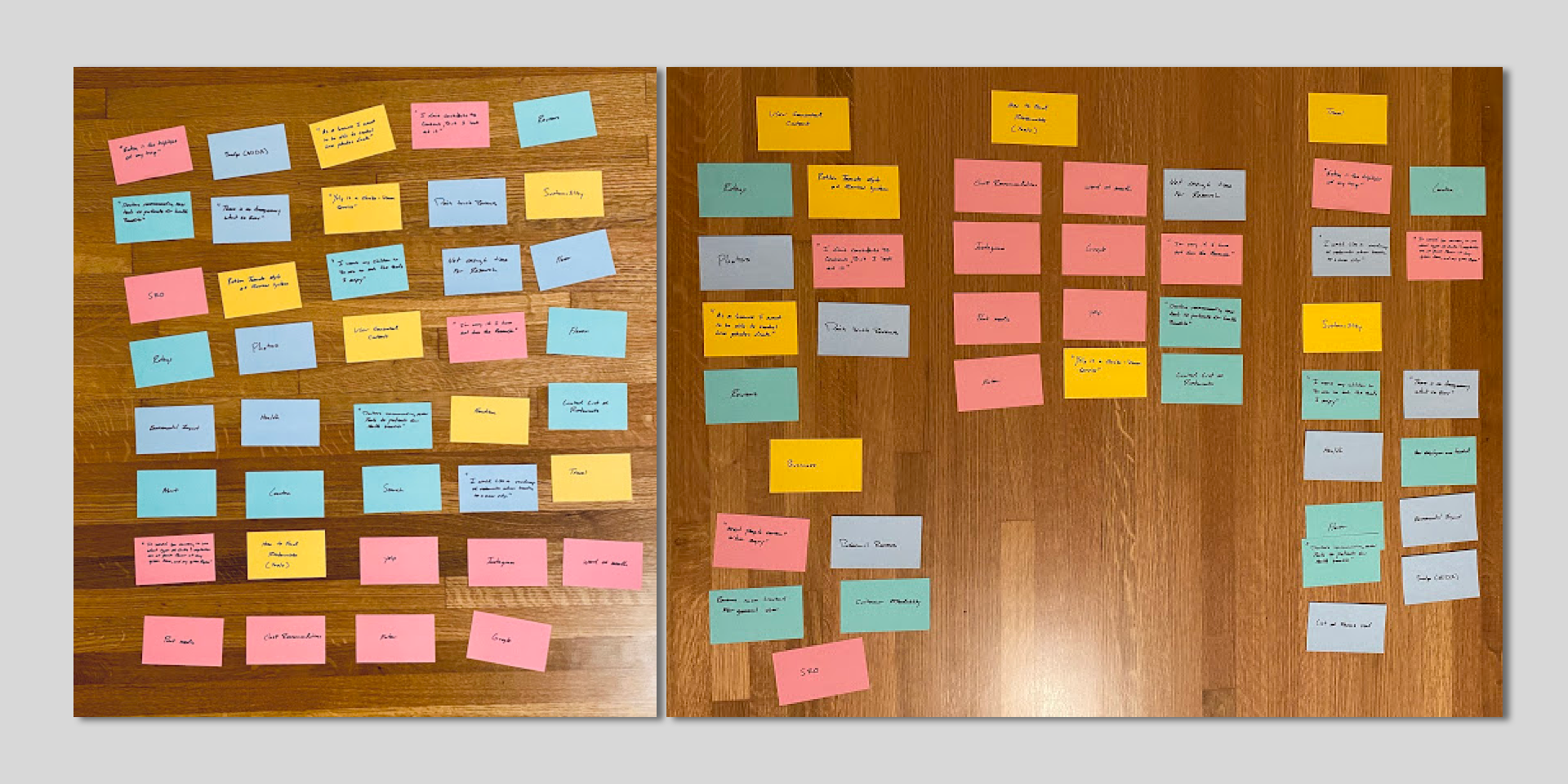 Through this step, I was able to learn valuable insights from my interviewees for my next step:
They want restaurant reviews, photos, and a rating system.
They do not contribute reviews or photos of their own food experiences, but they find other people's reviews and photos crucial to choosing a restaurant.
They want a more efficient tool to find sustainable restaurants to save time.
They find curated lists to be helpful.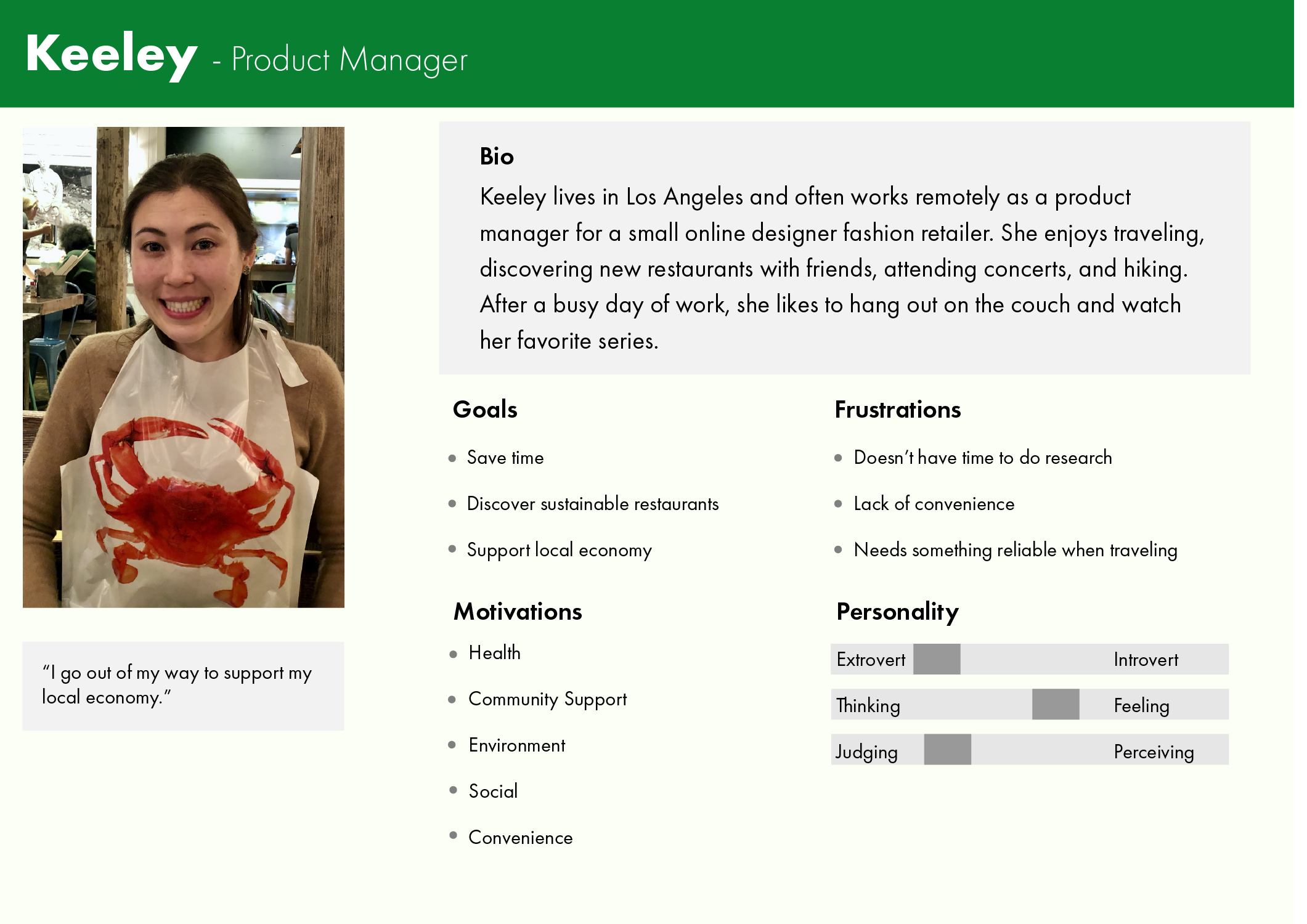 Persona
Interviewing five people who met my target audience allowed me to define a persona. The persona includes bio, goals, frustrations, motivations, and personality type. I referred to this persona throughout my entire design process.
Through research, I learned of frustrations people had trying to find sustainability-focused restaurants and product features people needed to adopt a new restaurant discovery platform. These learned frustrations allowed me to construct How Might We questions.
How Might We...
find sustainable restaurants for people?
get buy-in from sustainable restaurants?
get users who otherwise do not participate in user-generated content to participate in user-generated content?
Pull Up the Roots
Early in the ideation process, I used information collected during user research to help identify user problems.
During user interviews, interviewees expressed shared frustrations of not being able to find sustainability-focused restaurants easily.
"I would like a roadmap of restaurants when traveling to a new city."
"Yelp is a shake-down service. The information isn't always accurate."
"I don't contribute to user-generated content, but I definitely look at it."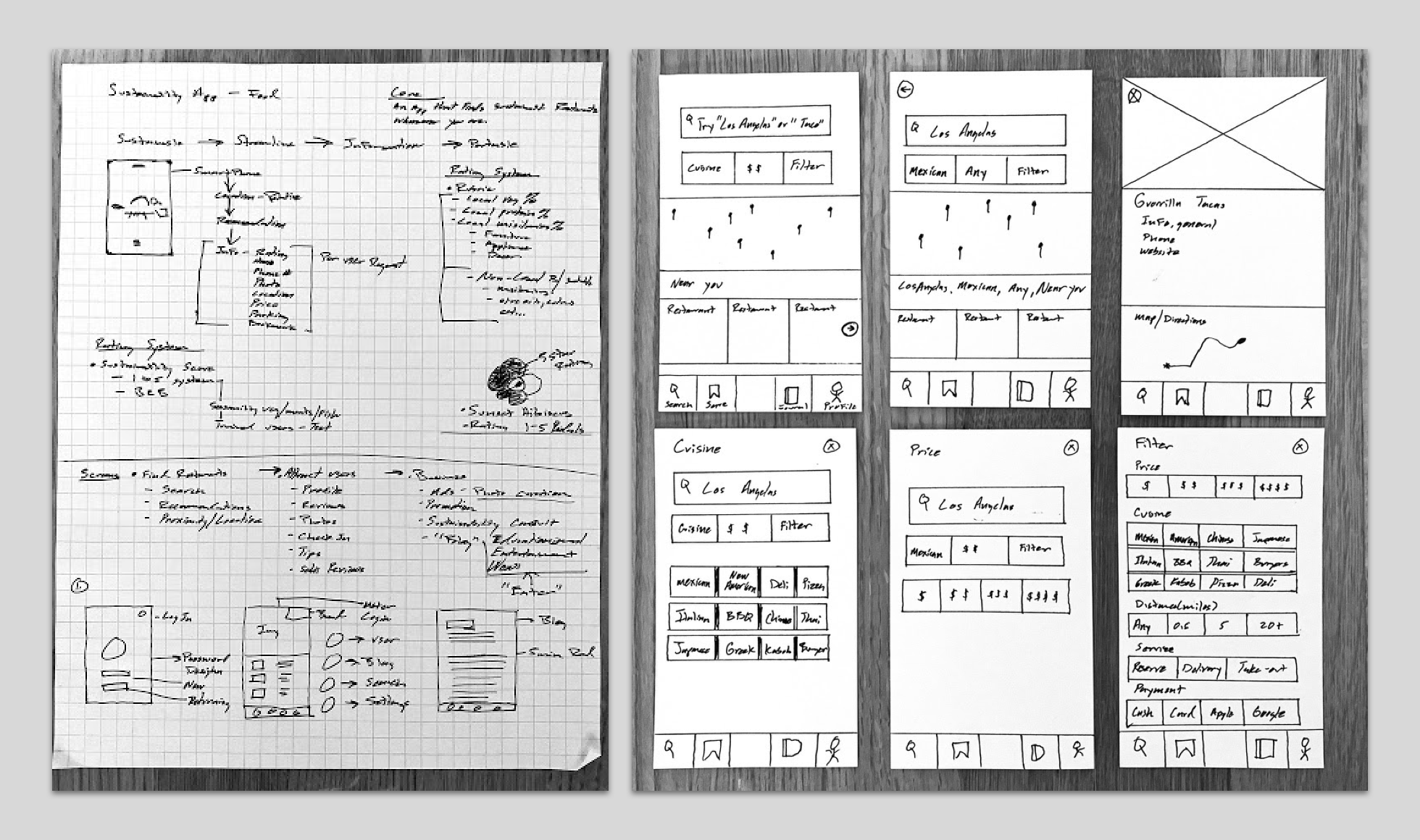 I focused on these problems when I began brainstorming and sketching solutions.
Throughout this process, I was open-minded and explored multiple ways to solve the problem.
After brainstorming and sketching ideas, I began writing user stories to identify the most valuable product functions. I created these stories by placing myself in users' shoes to build empathy and deliver better solutions.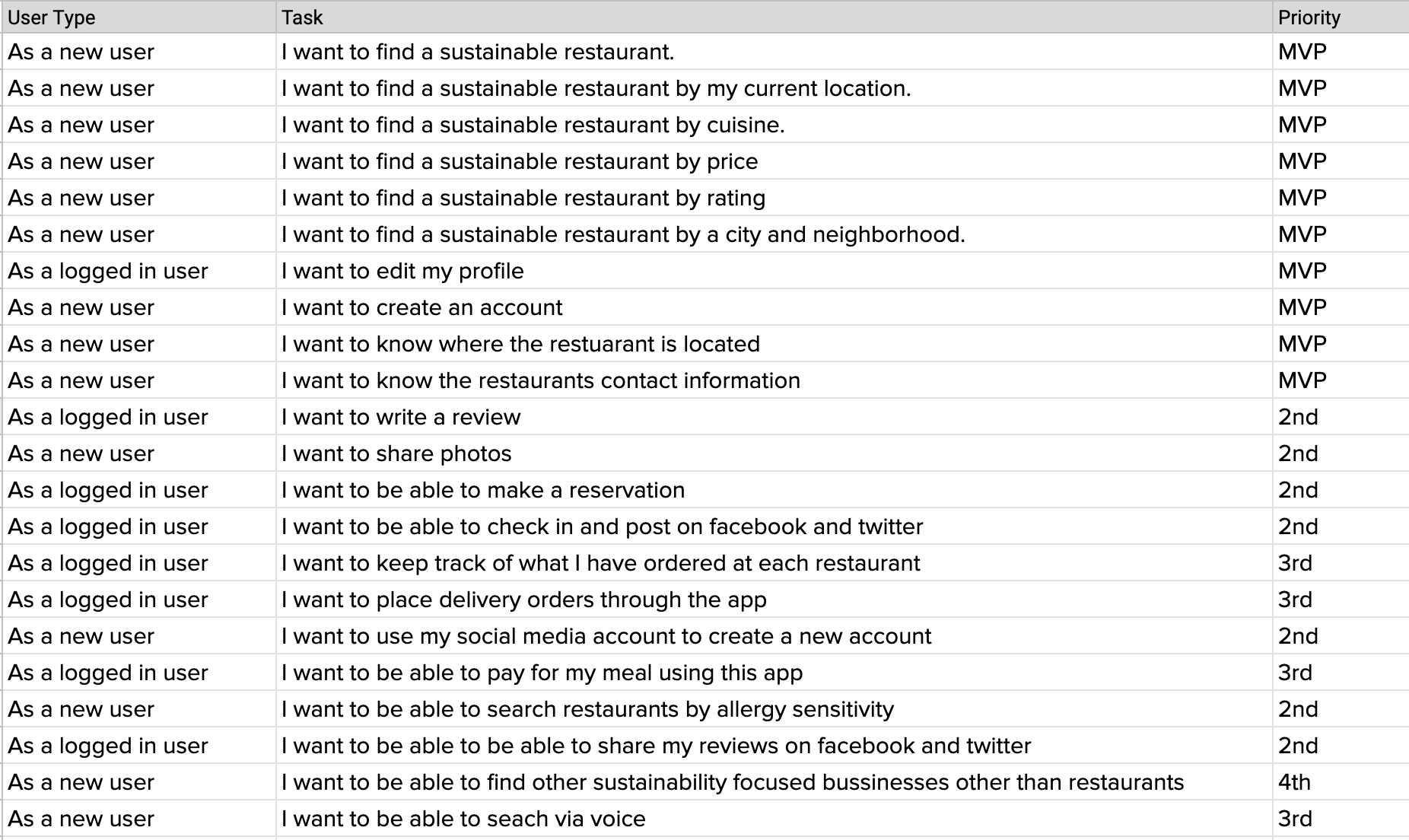 User Stories

After creating user stories, I organized them by most important to least important. Priority levels dictated the features of the MVP. Above all else, the ability for people to easily and successfully find a sustainability-focused restaurant is the product's core.
For the rest of this project, I am focusing on the MVP.
So Far To Go
Using what I had learned from the ideation process, I began creating a sitemap. The sitemap helped me understand how users would interact with the content.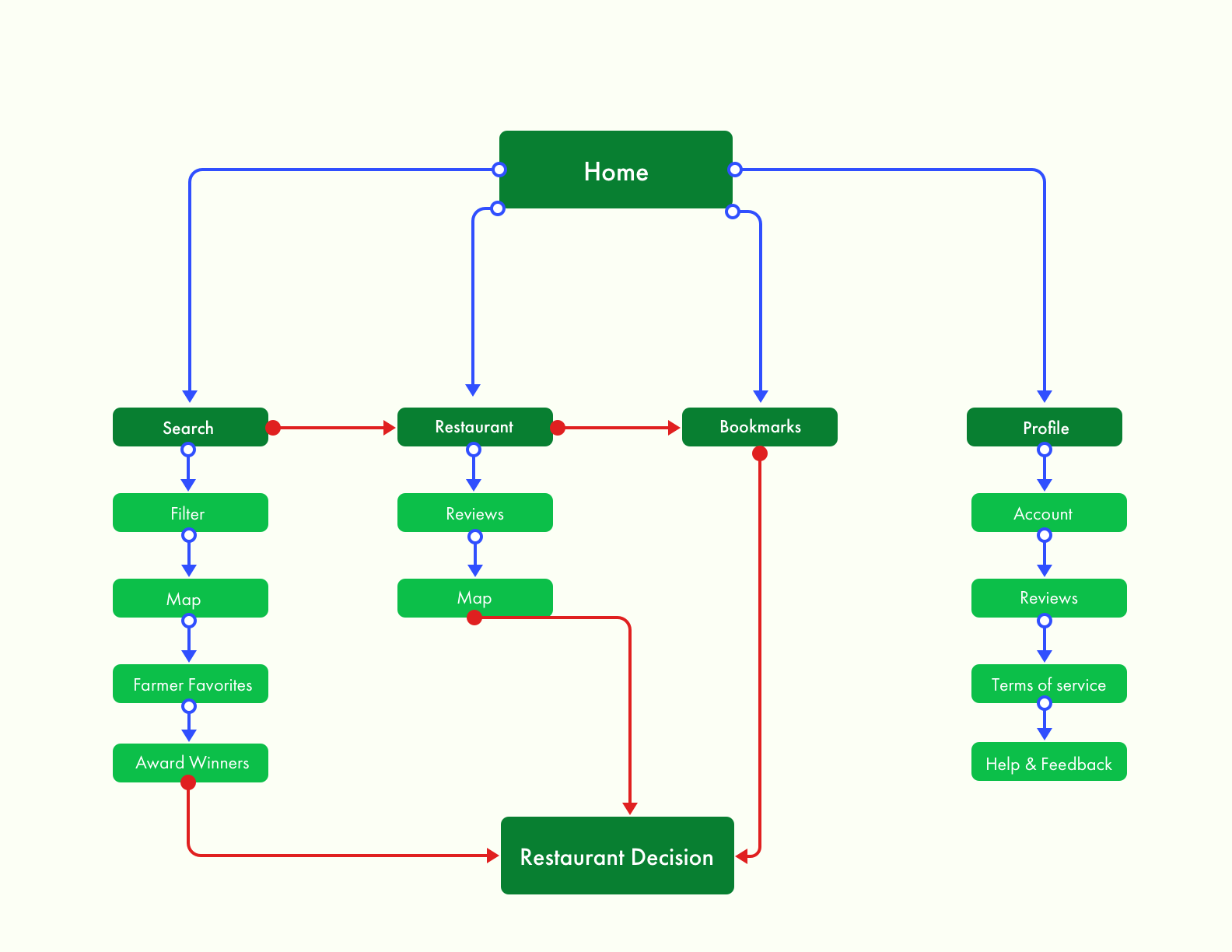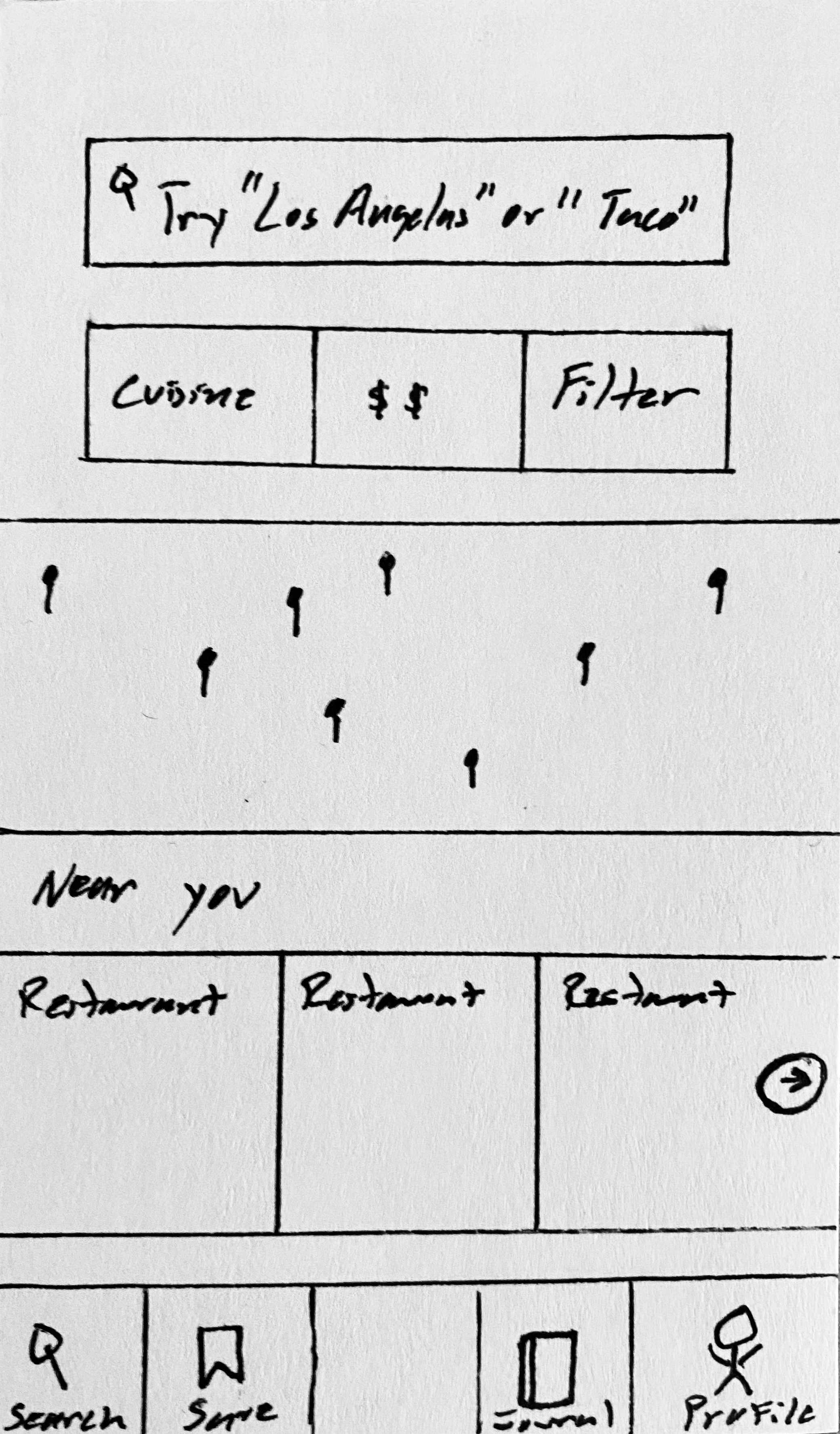 Prototype
I sketched on notecards to produce a low-fidelity prototype on Marvel POP. Using Marvel POP, I conducted a guerrilla usability test to receive feedback on my initial solutions.
The setting used for the guerilla usability test was a busy cafe located in Los Angeles, California.
Five participants were given three tasks to perform:
You're planning a date night in Downtown Los Angeles, and you need to find a restaurant. Use the app to find a restaurant.
Find a reasonably-priced Mexican restaurant.
Once you have found where you would like to dine, bookmark your choice.
These tasks were created to gain qualitative insights to validate that the app displayed enough information to execute the task, displayed it in an organized manner, and allowed for quick task completion. These insights helped set the design direction.
The sketches took search and layout elements from both Google Maps and Yelp to illuminate learned design patterns set by restaurant guide leaders.
The overall findings of the usability test led me to conclude that participants understood the purpose of the app. However, participants needed more recall when using the search function, and the home screen offered too much information and became confusing.
Puzzlin' Evidence

When creating wireframes, I focused on what the user needed and began to determine how these needs would be transferred to a screen. Working in greyscale allowed me to work quickly and not get caught up in stylistic details.
Keeping in mind unearthed suggestions from guerilla usability testing, I simplified the home screen by removing the map. I also added "search by location" and "search by cuisine" to the search option.
Tentative Decisions
As a sustainability-focused restaurant discovery app, the visual direction leaned heavily towards earth tones with a linen-colored background. I also wanted the overall user interface to look refined and designed with intention.

Focusing on the MVP, I began building out the components that would best lead a user to choose a restaurant. These components were: curated lists, search, restaurant information, and reviews.
Reviewing The Review System
There is an interesting dichotomy at play here: people find reviews essential to finding a restaurant but do not want to contribute reviews themselves. When asked, participants said that they appreciated thorough and well-written reviews, but such reviews were too time-consuming to pen themselves. After all, they had already successfully achieved their objective—they had found a new restaurant. What was the incentive? I realized that leaving this juxtaposition unresolved could lead to user retention issues down-the-line. To address this, I created a review system that yields feedback that is actionable for restaurants and informative to other users but as frictionless as possible for the primary user.
Round One

Once the visual direction was established, I began creating a high-fidelity prototype consisting of established red-routes. This first version was used for round one of usability testing with five participants.
The first round of testing illuminated that users had trouble seeing the text from a foot away, the curated lists were similar to each other, and the buttons needed to be larger to further coincide with accessibility standards.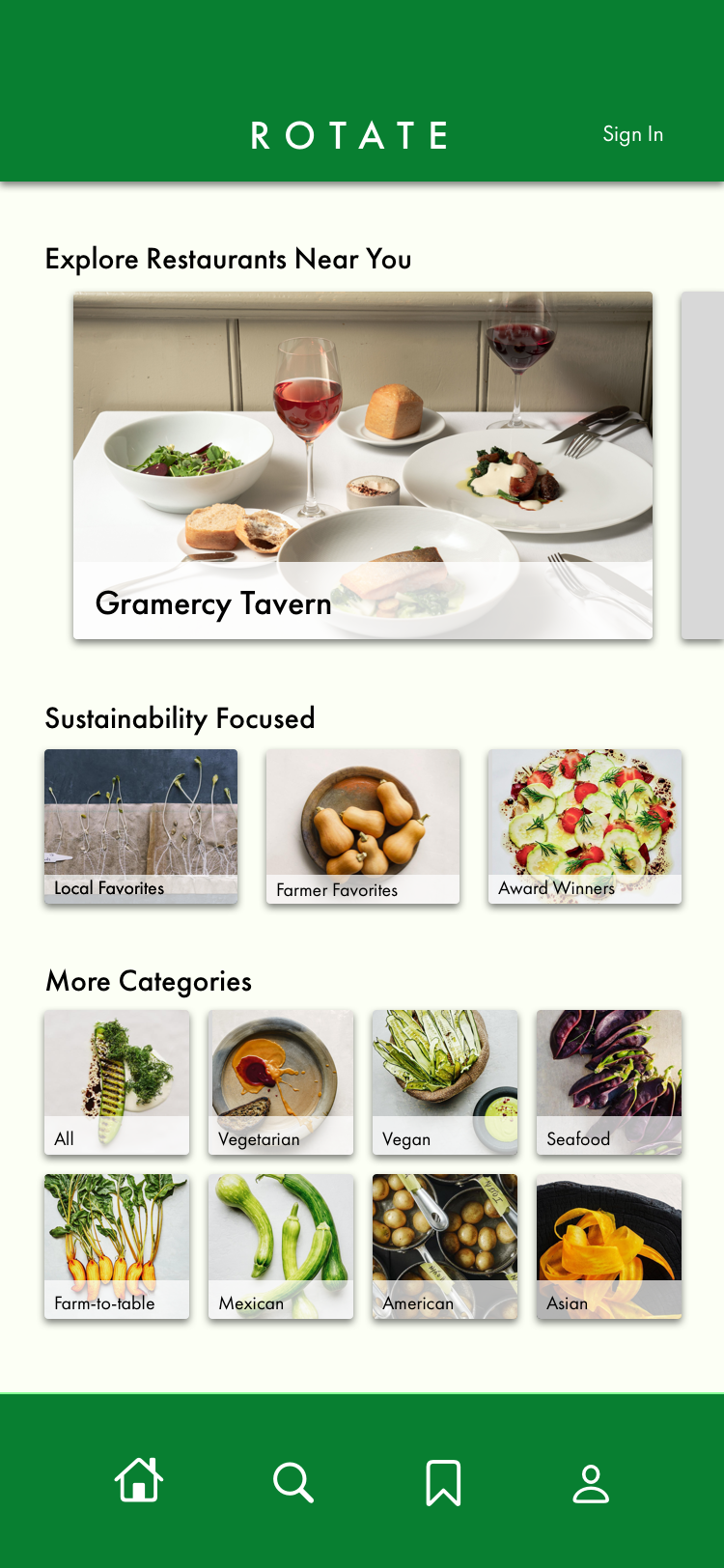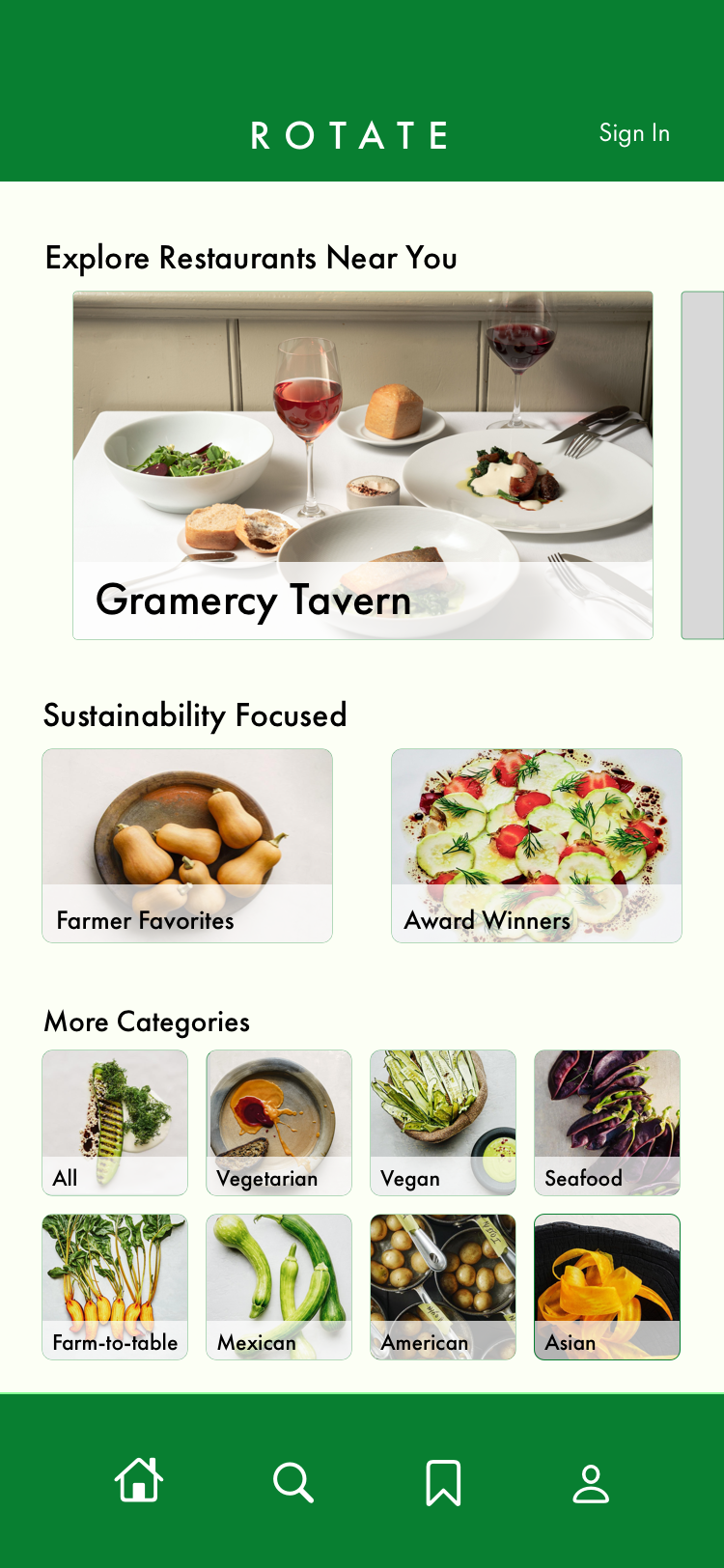 Round Two

After the first round of usability tests, I collected a number of useful insights from participants like:
I concluded the search screen was problematic. Multiple participants did not connect the left sliding tile to the map, thus leading me to place it within the map, add location pins, and add a menu for search filters and curated lists.
Another problem that came up during testing were filter menu buttons. The whitespace separating each filter button created a halo effect, distracting users. I solved this by increasing the spacing and changing the inactive button color to white which eliminated the halo effect.
I then applied each insight to the high-fidelity prototype and completed the second round of usability testing.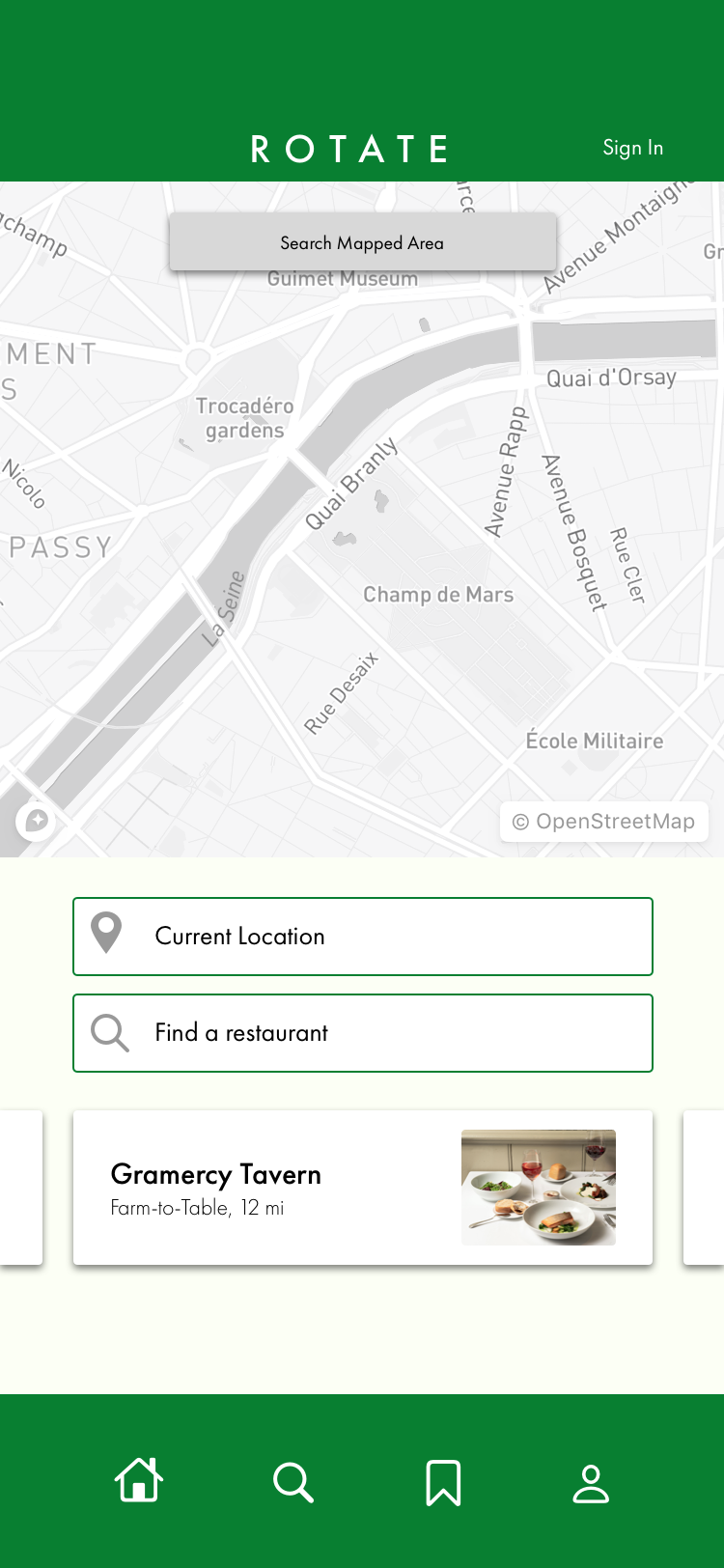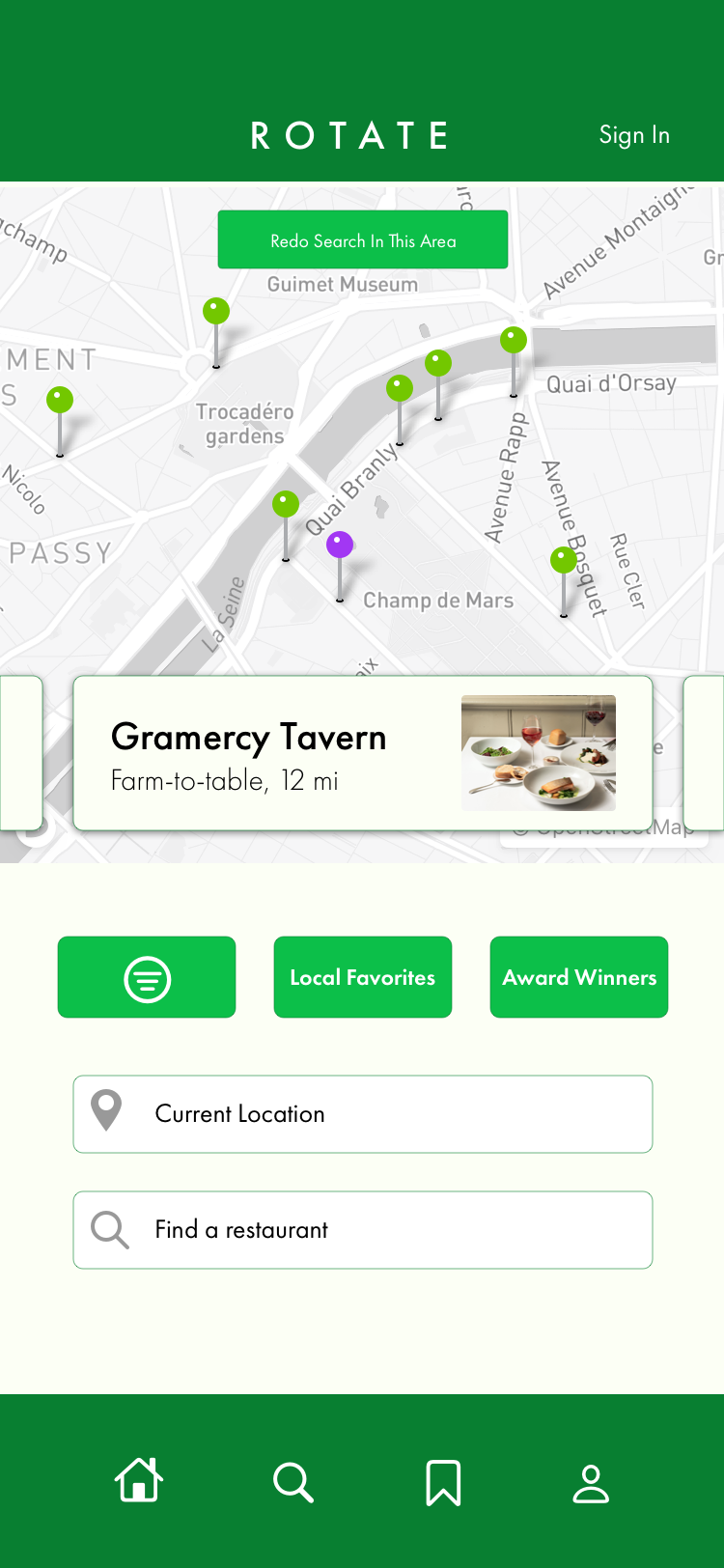 A Product In Progress

Creating Rotate from the ground up continues to be an immense learning process. Throughout this project, I learned to separate my assumptions about what the product should be and instead take the time to understand user pain points to design a product that users need.
Next Steps
Constructing a rubric to validify restaurant sourcing practices
Asking a restaurant what their sourcing practices are and trusting their merit is not enough. Therefore, I am working on an audit system that will bring transparency to the user and help restaurateurs make decisions that would allow them on Rotate.
Taking the review system further
Chefs and restaurant owners find reviews helpful but lack the bandwidth to wade through the blocks of text to find the truly actionable insights. How can I continue to adjust the review collection and submission process so that it is easier for users to leave reviews and easier for restaurant owners and chefs to digest them?